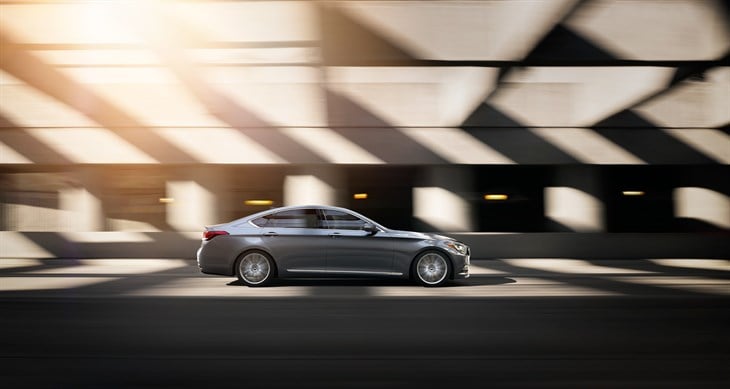 The
Hyundai Genesis
won the Best New/Redesigned Car in the $50,000 and Over category for
Kiplinger's Personal Finance
annual Best Value Awards at the 2015 Washington Auto Show.
Kiplinger's took a comprehensive review of hundreds of vehicles and revealed the best values on the newest models. Kiplinger's buyer's guide sorts the 2015 models by price and category, ranking them for performance, safety and value.
"With the 2015 Hyundai Genesis named to Kiplinger's Top Picks, it shows that this model continues to exceed customer and media expectations for its confident handling, top safety ratings, design and value," said Scott Margason, director of product planning, Hyundai Motor America.
Representing a bold step forward for Hyundai, the 2015 Genesis is new throughout, with a host of premium features and improved vehicle dynamics. Riding on a heavily revised platform, the sedan is even more structurally rigid than the previous generation. A suite of advanced assistance features such as Rear Cross-traffic Alert, Lane Change Assist, Blind-Spot Detection and Smart Cruise Control are also offered. Two engine options are available: a 311-horsepower 3.8 liter V6 and a 420-horsepower 5.0 liter V8, while an advanced HTRAC® AWD system is available for the first time on a Hyundai passenger car. With a base price of $38,000, an ideal blend of premium value, safety, bold design and superb driving dynamics are available to premium customers with the 2015 Hyundai Genesis.
The annual buyer's guide, "Deals on New Wheels," appears in the March issue, available on newsstands February 10, and online January 22, at www.kiplinger.com/links/cars.
ABOUT KIPLINGER
For nine decades, the Kiplinger organization has led the way in personal finance and business forecasting. Founded in 1920 by W.M. Kiplinger, the company developed one of the nation's first successful newsletters in modern times. The Kiplinger Letter, launched in 1923, remains the longest continuously published newsletter in the United States. In 1947, Kiplinger created the nation's first personal finance magazine. Kiplinger.com is the fastest growing Web site in the personal finance space. Located in the heart of our nation's capital, the Kiplinger editors remain dedicated to delivering sound, unbiased advice for your family and your business in clear, concise language. Become a fan of Kiplinger on Facebook or Kiplinger.com and follow Kiplinger on Tumblr and Twitter.