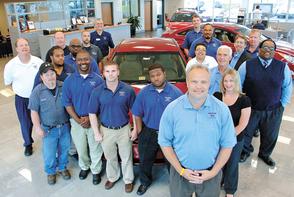 We at West Broad Hyundai understand that you as a consumer have a myriad of choices you can make when it comes to the decision as to which dealership to choose.  We do our best to simplify that decision by setting our dealership completely apart from the other guys!  We do that by:
1. offering a terrific product
2. offering it a great price
3. backing it by America's Best Warranty
4. with service provided by factory trained and certified Hyundai technicians
5. and excellent customer service from the sales, service, and parts teams for the entire life of the vehicle
EXCELLENCE IS IN THE DETAILS!
1. There is no doubt about it.  Hyundai is building vehicles that are more stylish, safe, fuel efficient, and well appointed than ever before.  And West Broad Hyundai now has 8 Acres of these new, well built works of art!  Check
our blog
  for the latest in awards that our vehicles have won!
2.  West Broad Hyundai has a long -standing tradition of beating the other guys when it comes to price!  It isn't a matter of debate;  bring the other guys' offers and we will prove it. You don't have to be a shrewd haggler to get a good deal from us, just come prepared to drive away in one of our new, certified, or used vehicles, and we guarantee you are going to be thrilled with the deal you get from us!
3. No one does new car warranties better than Hyundai.  The other major nameplates in the field (Toyota, Honda, and Nissan), stop their comprehensive warranty at a measly 3 years / 36,000 miles and their power train warranty is only 5 years / 60,000 miles.  Hyundai blows by the competition with their industry-leading 5 year / 60,000 mile comprehensive warranty and 10 year/ 100,000 mile comprehensive warranty. Oh yeah; don't look for roadside assistance from the other guys. Hyundai includes 5 years (unlimited miles) of worry-free driving with their roadside assistance package. 
Learn more about America's Best Warranty
.
4. Taking your Hyundai to a non Hyundai certified mechanic is sort of like going to a foot doctor to get your teeth cleaned.  Yes, both are doctors, but one specializes in keeping your teeth healthy and the other does not.  With the move to our new location, we now have 12 service bays with which to professionally maintain your vehicle. Our Hyundai certified mechanics are factory trained to service your vehicle and to spot any other issues with your vehicle- before they become problems.
5. Service is where the rubber meets the road.  At West Broad Hyundai, our people strive to deliver a world class experience to every customer. We believe that buying and owning a Hyundai should be a celebration!  Starting with the research phase of buying a car,  we have one of the region's best performing Internet Departments to answer your questions and to help you find the Hyundai that best suits your needs- and your budget.  We have three personable and professional agents in our eCommerce Department to answer your questions online, by email, phone, chat, or text.  Plus, our two Internet Sales Professionals are arguably the best in the business. You aren't likely to find other salespeople as friendly and knowledge about Hyundai vehicles than these two guys. Your showroom visit is likely change your perception of the car business.  Our facility is clean and the atmosphere is professional.  Our employees enjoy working with customers and it shows.  We aren't here to take you for a ride, we are here to help you find the ride you want at a reasonable price.  If you have a trade, we are going to offer you a fair deal on that too.  And if you have finance questions, we have over 50 years of vehicle finance experience, and rate sheets for just about every bank or credit union of whom you can think.  Once you purchase your car, don't expect us to just toss you the keys; we are going to give you a complete and personal tour of your new car, from start switch to service schedule.  We are even going to schedule your first oil change for you!  Expect us to follow up with you after your purchase to make sure there are no questions or concerns, and our sales team will be available for you throughout the life of your vehicle.  When it is time for service, you will find our
convenient online appointment scheduler
  easy to use, and our 4 service advisors both friendly and knowledgeable.  Any visit you make to our service department is sure to be a delight!